Accomodation
Location
Lezignan La Cèbe is a historic village with basic shops in the middle of the Languedoc vineyard area . A bus line near the house connects among other city to Pezenas and from there to the main towns of the region..
Access to the motorway is 3 'with the advantage of quick reach without the nuisance.
The sea is 20 ', the Hérault is 1 km for fishing, swimming in the river or canoe, Lake Salagou is 20′ you can swim or sail.
If you are looking for freshness, the plateaus of the Haut Languedoc are 30 ', for lovers of outdoor sports, reliefs and forest are at 30'.
Besides the old pedestrianized old city of Pezenas 5 ', Béziers is 20′ as Sète and the Etangs de Thau, famous for oysters and sea food, Montpellier 30 ', Carcassonne, Perpignan, Narbonne or Collioure are an opportunity for a day trip.
The Gite
Outdoors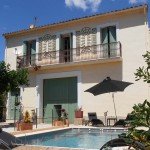 The freshly renovated Gite is on a closed ground, it offers a courtyard and a garden, the 5 x 3 mts swimming pool can be heated in middle season, it is equipped with a spa. The tiled decked is partly protected by a parasol and receive sunbathing. The mosaic table will allow to enjoy the refreshing shade of mulberry trees. Cars can be parked in the street, the yard or in the garage.
The garage is the ground floor, it was used to store wine in tanks still in place. A shower room with toilet brings comfort for moments of relaxation by the pool and in the garden.
Part of the garage houses the washing machine, a table and folding chairs are used to consider a meal at the shelter from the sun.
BBQ charcoal is available.
Indoor
The first floor accommodation is accessed via a stone staircase, the rooms are distributed around a tiled hallway.
The 105m² available, air conditioned and heated by a reversible system, are comfortably furnished for 4 people. On request a baby bed can be provided as well as a folded bed on the mezzanine of the living room.
The living room equipped with
A two-seater sofa and two armchairs
Satellite TV screen flat-Blue Ray Player – CD and web radio player WIFI -
A mezzanine permits to isolate for reading for instance.
The open dining room is equipped with
fridge freezer, dishwasher, piano with 5 ring gas hob and electric oven, extractor hood, microwave, toaster, kettle, coffee maker, food processor and other small equipments or many utensils.
Eat standing allows a casual lunch
The dining room
The "shabby chic" like en-suite is composed of:
160×200 Bedding
Dressing and drawer cupboard
Bathroom with walk-in shower, bath, basin and WC
The second bedroom is a mixed inspiration of vine works and cruise with:
2 90×200 Bedding which can be turned as one 180×200 on request
One cupboard originated from early XXth English cruise ship
2 bedside tables with lamps coming from a Japanese cruise ship
A shower room with toilet is next door in the corridor
An extra room offers volumes to store luggage's and more clothes
---

Accès réseau Wifi

Climatisation

Accès internet par satellite

Hifi connect